Paros Goes on Tour
May 17, 2011. Lragir.am.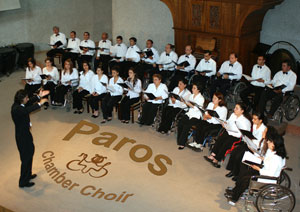 From May 18 to May 29, a unique cultural group, the Paros Chamber Choir, will have performances in Austria and Slovakia. Specifically, by the invitation of Vienna Municipality, Paros will give three concerts in the capital of Austria on May 18-26. Besides, Paros has been invited to participate in the Musica Sacra the 6th International Sacred Music Competition that will take place in Bratislava, Slovakia, on May 26-29.

Paros mostly consists of singers that are wheelchair users, and it is this aspect that makes it a phenomenon, well-known both in Armenia and abroad.

The Paros Chamber Choir was founded in 1993. Talented conductor Raffi Mikaelian has been the Artistic Director and Choirmaster of the Paros Chamber Choir since 2009.

This tour has become possible due to the generous support of the RA President Serzh Sargsyan, as well as the assistance of Hovik Abrahamyan, Chairman of the National Assembly of Armenia, Hasmik Poghosyan, Minister of Culture of Armenia, the Vienna Municipality, UNESCO working group Vienna, VivaCell-MTS, and the Paros Foundation. Also the support and invaluable donations made by Roger Strauch and Dr. Julie Kulhanjian (California), Richard and Gail O'Reilly (Massachusets), Armand and Alenush Bernardi (California), Sarkis and Ruth Bedevian (New Jersey), Daniel and Yana Behesnilian (California), Joe and Joys Stein (California), International Post-Trauma Rehabilitation Center, Dr. Michael Postl, Austrian Ambassador in Armenia, and Embassy of Germany in Armenia should be highly appreciated.

Unison NGO, which works in the area of supporting of people with disabilities, tends to the logistical needs of Paros.

'It could be said that a new page is being opened in the creative biography of Paros', said Armen Alaverdyan, Executive Director of Unison. 'There is no doubt that another meeting with classical music lovers in Europe will be crowned with new successes. From our side, we are very glad that our efforts produce new results'.